Sindberg: A Dane Chinese people always remember
2023-04-13 16:05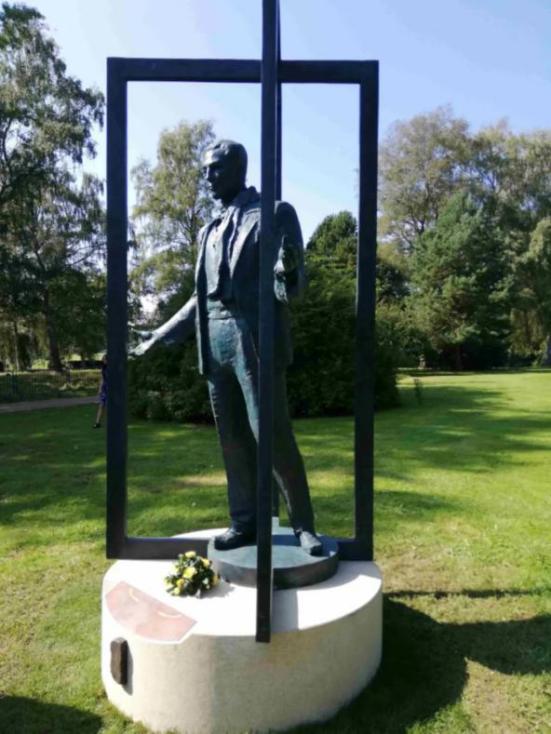 (statue of Sindberg)
On 9 April, the Danish Broadcasting Corporation (DR) aired a TV documentary "Danes in the World: Asia". It includes the story of Bernhard Arp Sindberg, who saved the lives of thousands of Chinese during the Nanjing Massacre.
Sindberg worked at the Jiangnan Cement Factory in Nanjing from December 1937 to March 1938. During the horrifying massacre by Japanese forces, Sindberg and his friend set up a make-shift refugee camp and a field-hospital at the factory, sheltering and saving thousands of Chinese.
He also recorded the brutality of Japanese troops in photographs and letters, exposing the truth about the Nanjing Massacre to the international community.
Sindberg's bravery embodies the lofty humanitarian spirit. He and his righteous deeds have always been remembered and cherished.
At the commemoration of the 75th anniversary of the victory of the Chinese People's War of Resistance Against Japanese Aggression and the World Anti-Fascist War, President Xi Jinping paid tribute to Sindberg by saying that his touching story and lofty character will always be remembered in the hearts of the Chinese people.
During her state visit to China in 2014, Queen Margrethe II paid a special visit to the Memorial Hall of the Victims in Nanjing Massacre by Japanese Invaders, and placed a yellow rose named "Nanjing Forever — the Sindberg Rose" under the Tree of Peace in the memorial hall.
In 2019, a statue of Sindberg jointly created by Chinese and Danish artists was unveiled in Aarhus, Sindberg's hometown.
Sindberg's story is a touching testimony of friendship between the Chinese and Danish people. The Chinese people will never forget his humanitarian spirit and heroic action.
(Sindberg at the refugee camp of Jiangnan Cement Factory)