Ceremony held to Celebrate the 10th Anniversary of China-Denmark Comprehensive Strategic Partnership and 2018 Happy Chinese New Year Performance
2018-02-02 23:58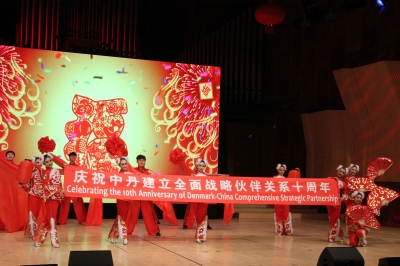 On January 20th, the concert hall of Royal Danish Academy of Music was filled with joyful atmosphere of the Chinese New Year. The Chinese Embassy in Denmark and Ministry of Foreign Affairs of Denmark co-hosted the ceremony to celebrate the 10th Anniversary of China-Denmark Comprehensive Strategic Partnership and 2018 Happy Chinese New Year Performance. Over 1000 guests attended ,including H.E. Minister for Fisheries, Equal Opportunities and Nordic Cooperation Karen Ellemann Kloch, H.E. Permanent Under-Secretary of State Michael Starbæk Christensen, H.E. Secretary General of the Nordic Council of Ministers Dagfinn Høybråten, H.E. Deputy Permanent Secretary of the Ministry of Energy, Utilities and Climate Anders Hoffmann, H.E. State Secretary for Foreign Policy Jonas Bering Liisberg, H.E. Deputy Secretary General of the Danish Parliament Claus Dethlefsen, as well as other representatives from the Danish government, Parliament and military, envoys from the Diplomatic Corp, representatives of Maersk, Foss and other enterprises ,representatives of Chinese institutions, overseas Chinese, scholars and students in Denmark and Confucius Institute.
H.E. Danish Prime Minister Lars Loekke Rasmussen sent a video message to congratulate on the 10th Anniversary of China-Denmark Comprehensive Strategic Partnership and greet for the Chinese Lunar New Year. He expected ever closer bilateral relations and broader cooperation in all fields.
H.E. Ambassador Deng Ying and H.E. Minister Kloch delivered remarks respectively. Ambassador Deng expressed her greetings for the Chinese New Year, reviewed bilateral relations and cooperation over the past ten years. She noted that Socialism with Chinese characteristics has entered a new era and China aims to foster a new type of international relations and build a community with a shared future for mankind. She also stressed China is willing to work with Denmark to grasp the opportunities and create an even more splendid decade of China-Denmark Comprehensive Strategic Partnership.
H.E. Minister Kloch wished the Chinese people a Happy New Year and warmly congratulated on the 10th Anniversary of China-Denmark Comprehensive Strategic Partnership. She noted exchanges and cooperation had increased rapidly, and the two governments jointly released the China-Denmark Joint Work Program in 2017. She highlighted that not only Copenhagen was just lightened up by hundreds of Chinese lanterns, it will also be the Guest City of honor at Beijing Design Week 2018. She also expected the arrival of the two giant pandas in Denmark.
Ambassador Deng and Minister Kloch touched the crystal ball together ahead of the gala performance, which triggered off the video of wonderful moments of 'Lighten Up Copenhagen' event. Over two hundred lanterns of Chinese style were lightened up in downtown Copenhagen, with shops giving out red envelops of fortune, bringing festive atmosphere to Danish people.
Artists from Jilin Province Art Troupe presented a spectacular performance. The graceful dancers get the audience close to Chinese ethnic people's lifestyle, while the melodious Chinese folk music provided evidence of well-developed Chinese culture. By singing the Chinese songs Danish singer Mariyah staged her understanding of Chinese music, exhibiting the ever-deepening friendship between China and Denmark.
2018 is the Year of the Dog. 6 volunteers in panda costumes distributed mascots of the Year among the audience. The marvelous performance struck a chord with the audience and won their warm applause. The audience also highly praised the achievements of China and looked forward to further development of China-Denmark Comprehensive Strategic Partnership.
Before the opening of the performance, inheritors of intangible cultural heritages peculiar to Heilongjiang province showcased the making of traditional artworks including fish skin and bark artwork, paper-cutting and Chinese cuisine.